My friends have very mixed reactions to Halloween - their enthusiasm and love for it ranges from 'bring it on I love everything about it' to shall we just say the exact opposite! Where ever you sit on the spectrum I think you will agree this is a very cute project and I am pretty sure my theatrical friends will see all sorts of non Halloween occasions for it too!
If you would like to see just how easy it is to make check out this video from the adorable Brandy at Stampin' Up! I know some of you will easily get the theatrical / film reference at the end ...
If you would like to order a kit for yourself or to give to a friend just click here.
Happy Stampin'
Click
here
to join my team
If you would like to
place an order please visit my on line store at
www.bekka.stampinup.net.
Please show your support by using the current hostess code shown on the right hand side of this blog and a thank you gift will follow in the post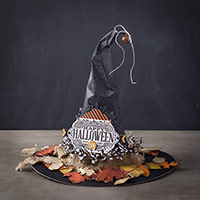 Pin It